Ferral Components offers a wide selection of high standard metal components as well as manufacturing services to different industrial sectors, such as mechanical engineering, shipyard, oil & gas, chemical and paper & pulp industries.
Services
Flame and plasma cutting | Bending | Bevelling | Welding | Machining | Quality assurance | Surface treatment and painting | Subassembly

Grades
Carbon Steel | Pressure Vessel Steel | Stainless Steel | Duplex | Super Duplex | Super Austenitic | Gray Iron | Ductile Iron | Titanium | Aluminium

Quality Assurance
All steel grades:
Charpy V, elongation, contraction, hardness (Brinell), and inter granular corrosion.
Duplex:
Hot tensile and ferrite measurement.
Extra testing:
VT (visual testing), PT (check for surface cracks), UT (check of containment), impact test (minus temperature and X-rays).
Dimensional inspection:
Faro 7-axis measuring arm 2,4 m, Trimos Horizon 1000 measuring instrument.
Certificates
• ISO 9001:2008 Quality management system
• ISO 14001:2004 Environmental management system
• ISO 45001:2004 Occupational healthand safety system
• European Pressure Equipment Directive 2014/68/EU standard EN 764-5:2014
• EN 1090-2:2008+A1:2011
Capabilities:
Ferral Components Oy
Location: Kalajoki, Finland
Founded: 1957
Factory: 4000 m2, built 1999
Employees: 40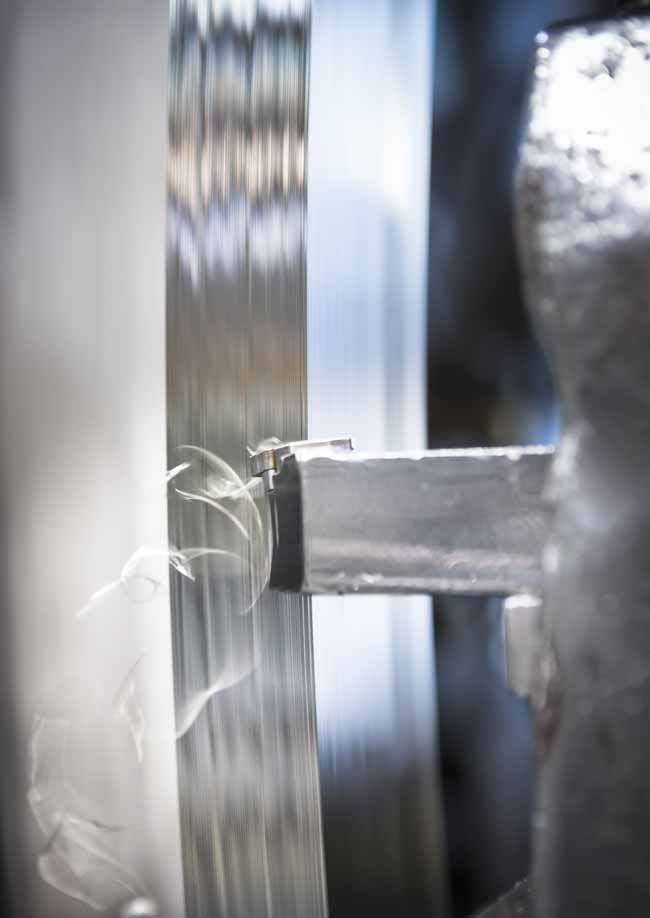 5-Axis Machining Center
• DMG DMU 200P, 1,800 x 2,000 x 1,100 mm CNC Vertical Machining Centers
CNC vertical machining centers
• DMG 200T, 1,800 x 2,000 x 1,100 mm
• Johnford 1024, 1,400 x 710 x 710 mm
• Yang, 600 x 400 x 600 mm
• Unisign Univers 8, 3,400 x 800 x 650 mm
CNC Horizontal Machining Centers
• DMG DMC 100H, 1000 x 1000 x 1000 mm, 2 pallets
Travelling Column Vertical CNC Machining Centers
• Unisign Uniport 6, 8,000 x 2,000 x 1,000 mm
CNC Horizontal Turning Machines
• Haas SL30, max. dia. 600 mm
• Tornado, max. dia. 550 mm
• Puma, max. dia. 700 mm
CNC Vertical Turning Center
• Hankook VTC-160E, max. dia. 2,000 mm
• Unisign Univers 6, max. dia. 1,100 mm, 2-chucks
• Unisign Univers 6 C2, max. dia. 1,200 mm, 2-chucks
CNC Vertical Turning Machine
• Okuma ACT2SP5, max. dia. 780 mm, 2-chucks
Manual carusel lathe
• max. dia. 2,500 mm
Manual Horizontal Turning Lathes
• 5 pcs
Flame and Plasma Cutting
• 1 pc CNC-controlled flame cutting machine
• 1 pc CNC-controlled plasma cutting machine
• Max. plate size 100 x 2,500 x 6,000 mm
Sawing
• Meba 335 DGA-600 automatic band saw
• Band saw, Kasto Twin A2
Profile Bending
• Roundo R 7S, 300 cm3
Hydraulic bending machine
• Tesera HC200 bending machine 200 ton/3,000 mm
Steel grid blasting
• Konrad Rump
Welding
• 2 pcs Motoman weldingrobot, 6-axis
– Manipulator, two welding stations
– CNC table, four welding stations
• Multiple Mig/Mag welding machines
Fork Lifts
• Kalmar LMV 9,000 kg
• JCB Teletruck TLT30-4, 3,000 kg
• Combilift, 3,000 kg
• Manitou MSI 30T, 3,000 kg
• Mitsubishi, 1,600 kg, 3 pcs