When you need customer specified components or other special products, we have a unique acquired competence and experience within production, stockholding and logistics, which provide you optional solutions.
Ferral Components is a part of the swedish industrial group Nordic Flanges Group together with sister companies in Kruunupyy and Örnsköldsvik.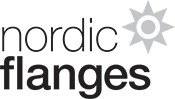 One of our long-term customers is ABB Oy, Motors and Generators in Helsinki, for which we supply a wide range of components.

ABB
"Customer-oriented, demanding production equires excellent cooperation with our subcontractors. Quality and delivery reliability cannot be compromised. If needed, we also expect a quick and flexible response. ogether with us, our subcontractors are required to rise to global challenges by improved productivity, procurement and efficient processes."
Hannu Uusitalo
Development Manager
ABB Oy, Motors and Generators Helsinki
Total under roof space 6000 m²
Personnel 40
Ferral Components Oy
Location Kalajoki, Finland
Built 1999
Products and services
• Metal Components
• Contract Manufacturing